LG V30 Plus In-Depth Review
7LG has recently launched the successor for V30 named as LG V30 Plus or LG V30+. The smartphone has all the qualities to fight amongst all the flagship smartphones of 2017. There are many other features as well, where you won't find them in OnePlus 5 or Nokia 8. The pricing of LG V30 Plus has been set arouynd Rs.44000/- which is somewhat more than OnePlus 5T but if you compare it with Samsung Galaxy S8 or Samsung Galaxy Note 8, you would find it more cheaper and better. I tested LG V30Plus for about a week and came to my results. The smartphone looks very surprising and unexpected from what we saw in LG V30 and it will be very honest to say that this time LG has beaten down all the odds by producing a smartphone that is capable enough to rock in the smartphone industry. So, without wasting more time, let's get to the LG V30 Plus:
Key Specifications of LG V30 Plus
6 inches QHD+ Display

HDR 10 support (better display quality)

Qualcomm Snapdragon 835 SoC

4GB with 128 Internal Storage

16MP with f/1.6 lens (Standard)+ 13MP with f/1.9 lens(Wide Angle Lens) Rear Camera setup

5MP with f/2.2 aperture (Wide Angle Lens) Selfie Camera

Android v7.1.2 (Upgradable to Android Oreo)

Wireless Quick Charge

IP 68 Certification
LG V30+ Design
The LG V30+ is purely based on metal designs with round edges corners. I just loved the way LG has made it looked so easy but it actually required more and more engineering. The smartphone looks very much handy and very much compact.
Also, the thickness is very reduced if we compare it down with Samsung Galaxy S8. But one thing LG has failed to deliver is unless the bezel-less area. V30 Plus has still got bezels on its side and bottom and it doesn't look better if your best flagship smartphone are carrying unnecessary bezels. But if this thing doesn't bother you, then trust me, LG V30 Plus has far better design than any of the smartphones in the market including OnePlus 5T.
Apart from these things, you get 3.5mm headphone jack where it is not available in Xiaomi Mi Mix 2. Also, the fingerprint sensor is kept at the back at the correct place. Also, the smartphone has IP 68 Certification which means it is dust and splash proof. However, I won't recommend you to try this at all.
LG V30+ Display
Now, LG V30 Plus is far ahead than all the smartphones as LG deals with better quality OLED Panels. Thus, in this smartphone as well, LG has used OLED display which is used nowadays in high-end Televisions. Also, LG V30 Plus has HDR 10 display (High Dynamic Range).
Now, there have been many debates against HDR 10 vs Dolby Vision. I'm noone to decide which one is better but HDR 10 is also a wonderful technology and I guess that's what more important is. Apart from all these display qualities, you get QHD+ display resolution of 2880x1440 pixels which is more than any smartphone you would ever see.
The aspect ratio is 18:9 displaying that the bezels would be minimum on the sides. I would give 10/10 points to LG V30 Plus and would recommend this smartphone if you are a hardcore display lover. At this price range, you are getting a lot and that's seems fair enough.
LG V30 Plus Performance
The LG V30 Plus is powered by Qualcomm Snapdragon 835 SoC which is not the technically latest Processor by Qualcomm (after the launch of Snapdragon 845 SoC), and even 4 GB RAM.
There is no point in comparing the benchmark results with any other flagship smartphone as all the flagship smartphone slike Galaxy S8, Galaxy Note 8, OnePlus 5, OnePlus 5T and Nokia 8 exhibit same Snapdragon 835 SoC. Now, if you really want to compare the results, then go ahead and compare it with iPhone 8 or iPhone 8 Plus. But let me tell you straightly, these Qualcomm processors would never ever meet the level of Apple Bionic chipsets so it's better if we leave that arguement here only.
The 4GB RAM could have been increased or other variants should have been launched, because when I tried opening very heavy apps like Asphalt 8 and compared my results with OnePlus 5T, I found that V30 Plus was slower by a very slower margin. But yes, I feel that LG should have thought a bit on their hardware section and could have imposed some more RAM storage.
On the other hand, the internal storage is 128 GB which is sufficient enough to take care of all your storage. However, if you still want to expand then you may expand upto 256 GB.
One thing I lacked in LG V30 Plus the volume of the speakers. I have also used some mid ranged smartphone like Xiaomi Mi A1 but I can proudly say that the voice over there was more than this smartphone. At least, LG should have taken care of this thing and implemented something very beautifully.
Apart from all these stuffs, you get Bluetooth v5.0 which works very well and even the noise cancellation mic works upto the mark.
LG V30 Plus Software
In a year that sees many phones ditching the headphone jack in place of wireless, LG heads in the opposite direction. Not only does the headphone jack remain, but it's backed up by a Hi-Fi Quad DAC – and there are a pair of B&O earphones included in the box. On first putting the V30 through its paces, I assumed Quad DAC would prove a novelty feature, something that would make my Spotify streams sound marginally better. Actually, it goes beyond this – it's my single favourite feature of this phone.
Listening to music on the V30 is a joy, unmatched by any Samsung or iPhone device. Even without enlisting super-expensive headphones, it makes a difference. Bass is well managed, there's plenty of detail and everything sounds crisp. Make the leap up to a Tidal Hi-Fi stream and a decent pair of headphones, and it gets even better.
The question though is how many audiophiles can LG find in the mass market, and how many of them are willing to overlook the phone's other flaws. If music is all you care about, the LG V30 is certainly the phone you should buy, but you will have to make way for the other compromises. Audio has always been a niche segment, and while props go to LG for hitting that market, it's probably not going to have a mass market appeal.
LG V30 Plus Camera
You can still work with the performance of this phone or its display, but the ultimate deal breaker here is the camera. It's an impressive spec, with f/1.6 lenses and a secondary true-wide angle camera. Yet, LG chose to include a 1-micron sensor underneath the lens, which keeps you from taking advantage of the large aperture here.
Low light photos are often too dark and the V30+ can't hold a candle to the Pixel 2 XL or Galaxy Note 8's camera. Their 1.4-micron sensors capture significantly more light than this phone. The image below is clicked in extreme darkness, but you can see the Pixel 2 XL's camera picked up much more detail, with better colour, here. The LG V30 also fails to focus in very low light at times.
On its own, the phone can shoot impressive photos in well-lit conditions, but it simply fails in low light for a 2017 flagship.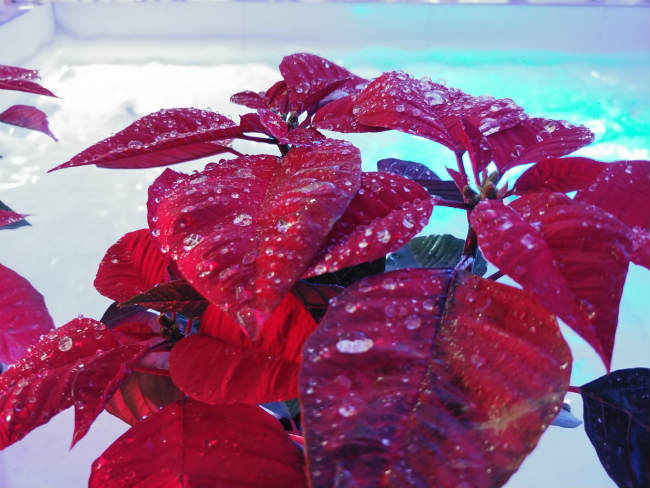 LG V30 Plus Battery
In terms of battery life, the V30 is actually amongst the most dependable flagships today. It lasts for over 11 hours on the PC Mark Work 2.0 battery test, which is amongst the highest we have seen in this range. On regular use, it lasted a full day quite easily. In fact, using the phone as my primary, it lasted 12-14 hours quite easily, on regular usage.
Also, LG V30 Plus has Wireless Quick Charging by which you can easily charge your smartphone wirelessly. One more greaf feature around LG V30 Plus is, you get support of Qualcomm Quickcharge 3.0 by which you can carge your smartphone from 0-50 % in just 35 mins

My Opinions on LG V30 Plus
Pros
OLED Display

QHD+ Display

Flagship Snapdragon 835 SoC

IP 68 Certification for Splash and Dust proof
Consa
No Android Oreo from the start

Failed Flagship camera

Bezels in the front

Only 4 GB RAM